Termites are usually very harmful despite the fact that they are just small insects. The main reason why they are so harmful is that they come in the thousands and they can cause major damages within a short time. They primarily attack and feed on wood but they can also damage books, papers, insulation. and other forms of wood based furnishings.
Termite Control
Informative And Educational Details About Doing Effective Termite Control
 Check out Cypress Critters & Pests on Yelp
Termites are usually very harmful despite the fact that they are just small insects. The main reason why they are so harmful is that they come in hundreds and they can cause major damages within a short time. They primarily attack and feed on wood but they can also damage books, papers, insulations, filtration systems and even swimming pool liners.
They usually invade buildings in places that even the homeowners can stay for a long time without noticing that they are there. This makes it paramount for every homeowner to take the necessary termite control measures. These measures will remove the termites and also prevent them from gaining access to different structures.
Most of the measures that are meant to deal with termites require professionalism. This is because there are certain tools and skills that are required to deal with termites. Furthermore, some of the places that termites usually attack are hidden and as a result it requires certain skills to access these areas. If termites have attacked a small structure that is not attached to the main buildings they can travel to find additional food.
There is a myriad of companies that provide termite control services in the Houston region. Because of this, it is always important to select a company that is able to provide the best services available and in a timely fashion. Check with Yelp, Google, Facebook, and other places for true testimonials on how a company performs its duties.  Look for the highest number of testimonials with 5-star reviews before you make your selection.  Such a company will have professionals with the right skills to deal with the termites. The professionals will also have the necessary tools that are specially designed to deal with termite problems. Furthermore, professionals will use different methods to deal with termites that a novice will not even know exists.  In case the termites come back the professional companies should have specific contracts, and will come back and deal with them without charging any further fees. This provides home owners will provide quality services to ensure the termites are killed and do not return.
Some of the most common termite control methods include using chemicals which are put on the soil. These chemicals can kill the termites or prevent them from accessing the different structures. Whenever the termites come across these chemicals they change their routes and as a result will not go past the chemicals. The professionals proving the services to control termites will provide helpful advice on the right chemicals to use. They will also know the most ideal points to apply the chemicals. They might also decide to use other methods such as using baits. The baits that will attract the termites and this can change their direction to divert them from accessing the various structures. Furthermore, the professionals can spray the various structures with substances which will keep the termites away.
Depending on which method is used to control the termites, home owners need to know the safety attributes to observe. Some of the chemicals used to control termites might be harmful to pets or even the people who comes into contact with them. The professionals usually advice home owners on the safety attribute to observe. Our professional technicians are highly trained and have hundreds and hundreds of hours working in real live situations. They will advise the homeowner on how long the various methods used will remain effective. The importance of this is that it helps the home owners be able to make informed decisions when deciding the methods they prefer. Therefore, it is always helpful to do proper termite control provided it is done in the right manner by competent people.
After being told by another Critter Control company, that it was gong to cost $7,000 to rid my home of approximately 60-80 roof rats, whose presence in my home was probably causing irreparable health damage to me and my family, I decided to call around for more informaion. I got three other quotes which were all a small fraction of what the first Critter Control company wanted.
Cypress Critters and Pests
was my best offer
and when you consider the customer service you are getting,
you are getting a real DEAL
. Michael and his wife are accommodating, down to earth, fun and above all else simply want to get anything the crawls out of your house (minus children and pets) and they pride themselves in doing just that. Scheduling was easy and I haven't heard any other noises. And I know that if I did I could call them back and they would be right out immediately. Oh, and Michael informed me that there may be a few rats that got in but they haven't been there very long and it's not an infestation. As I was losing it thinking of rats in our house (just moved here from the Midwest and I've NEVER heard of anyone having roof rats though it's pretty common around here) Michael quoted me for an antibacterial spray and clean up and said that he has referrals for people who could redo insulation but insisted that it was not necessary and that he wouldn't recommend it. But of course he would be happy to do it if it made me feel more comfortable. That's pretty upstanding in my book. Since moving here I've found very few companies which offer exceptional work and customer care. I have been full out scammed three times and I have felt like I can't trust anyone. These guys you can trust. Give them a call.
Just had a really great experience with
Cypress Critters and Pests
. Mike came out today and did our first treatment. He was on time, courteous and very thorough (the other pest company was in/out in 20 minutes), but Mike stayed much longer (he went up into the attic, treated our soffits and every little nook and cranny). The treatment for fire ants and termites costs a little extra, but is good for a full year. The other thing I liked is that he said he would send me a text in 3 months and see if we wanted him to come out, but that if we didn't feel like we needed it that we could just say "no, thanks". Our former pest company would send out a postcard (or claim they did) and if we weren't home would just spray the outside, call it a day and send us an invoice. Mike said they would never do that, and only come by if we requested at the time of the text (if he doesn't receive an answer from our text, they won't come out). Overall, a very good first experience. I would recommend Cypress Critters and Pests without hesitation. If you need to see other good experiences with them, check out their yelp page (that's how I found them), they get very good reviews.
Cypress Critters and Pests treated my business property and my home this past summer, and I am glad to report that to date, the only bugs I see are dead because the treatment is still working, even after all of the rain we had. Michael is a great guy and does a terrific job. 5 Stars all the way.
Working with a family owned business is 10x better than dealing with Terminix or Orkin. Call Michael, he's a pro.  
Google Reviews
Mike Gerbino with Cypress Critters and Pests is a great person to work with!! He is knowledgeable, eager and able to help you in anyway possible!!! If you have any pest, rodents or generally unwanted house guests.. Contact Mike!!!!!!
Google Review
We have a large commercial warehouse building in a rural area. The rural part = lots of spiders and bugs. Rheanan came out and gave us a consult for our issue. She was extremely knowledgeable and knew exactly what needed to be done to eliminate our problem. We set up an appointment for her to come out and perform the recommended service. She showed up and made those bugs her b!&$%. We saw immediate results and the next morning, there were dead insects in places we did not expect. It has been a few weeks and we continue to see results. We are incredibly impressed with how effective her solution has worked. I recommend Cypress Critters and Pests for any of your commercial or residential needs. We are definitely going to use their service again and will have them out to our home as well. They are very knowledgeable and professional. Plus, the customer service is stellar. Ditch your other guys and call them!
Yelp Review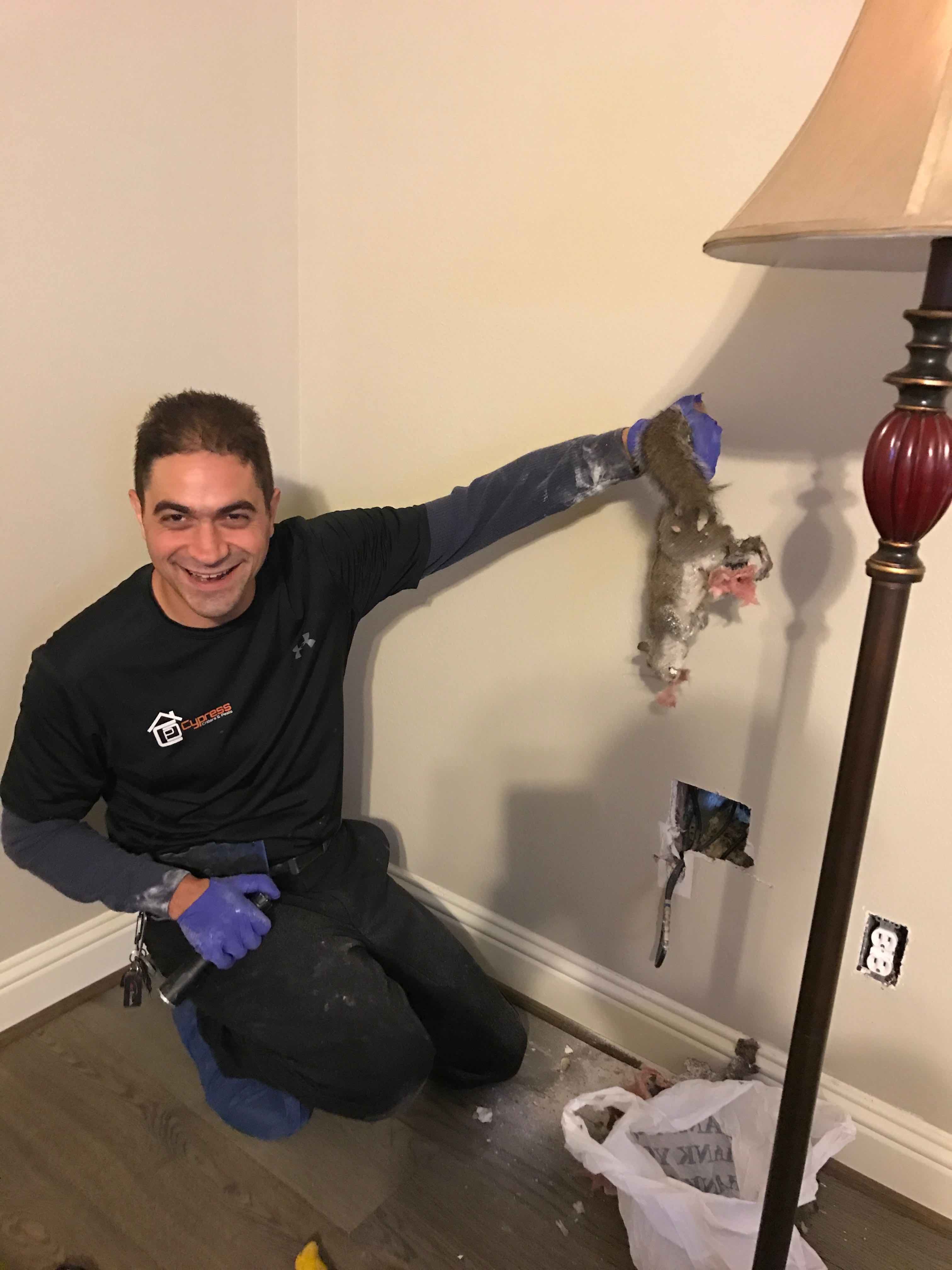 Raccoon Removal & Control Squirrel Removal & Control Bat Removal & Control Skunk Removal & Control Bird Removal & Control Snake Removal & Control Groundhog Removal & Control Opossum Removal & Control Goose Removal & Control Mole Removal & Control Beaver Removal & Control Muskrat Removal & Control Coyote Removal & Control Fox Removal & Control Rat Removal & Control
Excellent service from Cypress Critters and Pests. Our home was invaded by varmints in our attic, we were very concerned. Michael was very personable and professional. He made his recommendations and took care of all the varmints and squirrels. Thank you, Michael, we are your customers for life.  Thank You!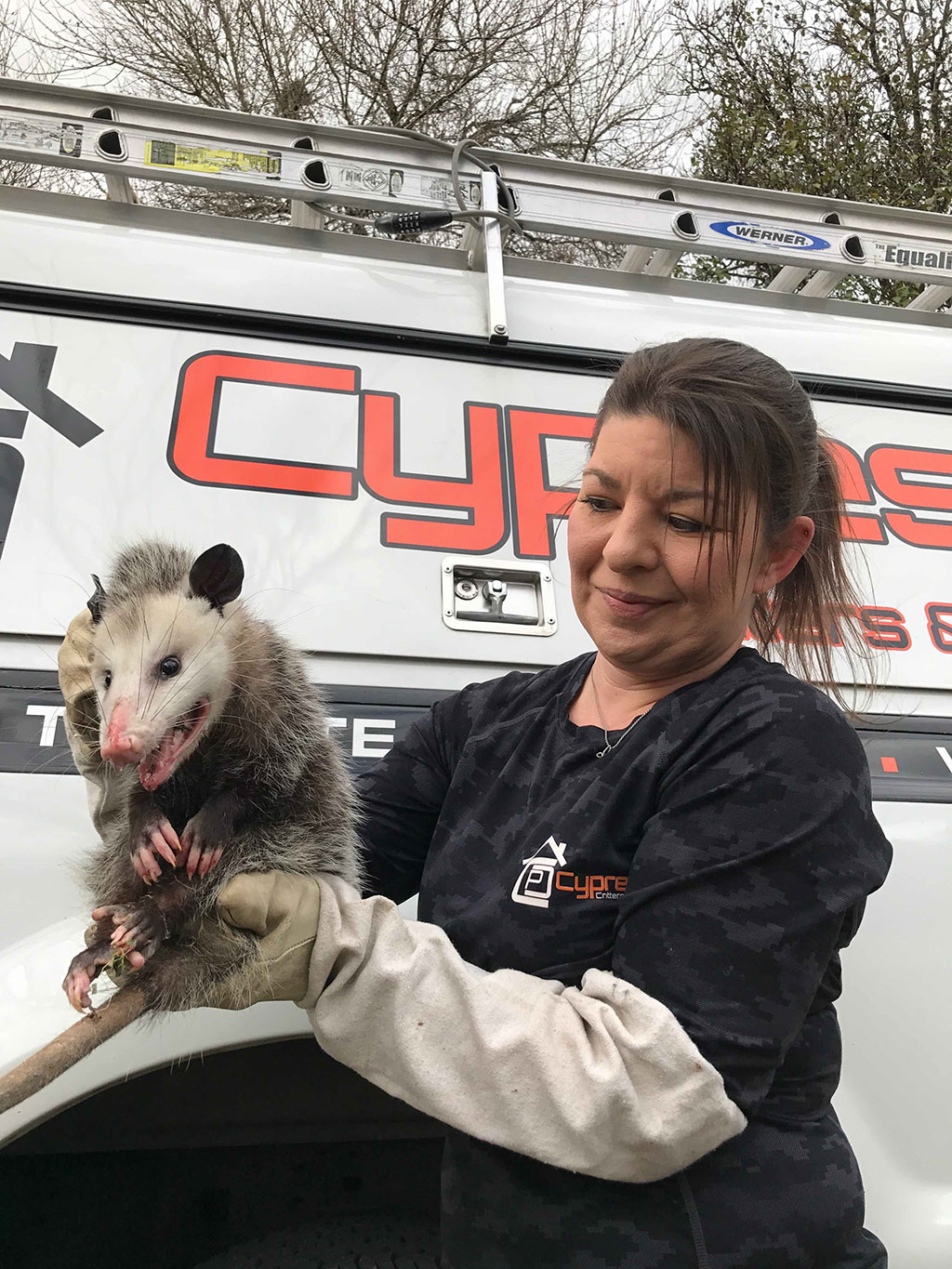 Michael is seriously the best! I actually found him on
Yelp
, in a pinch, due to birds getting into my stove vent duct work. He was so knowledgeable and friendly and really fair with pricing. He responded promptly to my message and came out that same day. We ended up having him do an exclusion on our home to keep other critters out! He is really hard working and is just a person you want to give your business to and refer friends! He took the extra step by going to Home Depot, buying our new stove duct (AND taking our old one home and cleaning it out!!), and helped us install it – the very next day. I would recommend him to anyone needing pest control. I'm honestly going to switch pest control companies (including quarterly maintenance) to have Michael do it, because I can honestly say- I know and trust he will do a great job! Hands down, I would highly recommend!!
Google Review