Pest | Critter | Animal | Termite Control
Houston | Cypress Division

Animal Exclusion
Ever wonder how animals get into your home.  We are one of the only companies that offer custom animal exclusion.  We will audit your home and show you where animals are breaking in, and we will cover each and every way that they can get in.

Pest Control
We treat from property line to property line to deliver the best results. Inside treatments can be frequent or infrequent depending on the circumstance and severity of the infestation. One time or contracted Pest Control

Termite COntrol
Termites are usually very harmful despite the fact that they are just small insects. The main reason why they are so harmful is that they come in hundreds and they can cause major damage in a short time.

Bird Control
Bird droppings can create a very negative environment in business.  Just picture someone walking around and having a nice present drop on the top of their head, or into a cup of coffee.
How much fun is this!
We love what we do.  We are all people who get up every day and just cannot wait to go out on our next call.  Everyone who works with us at Cypress Critters and Pests has expressed and shown us that they actually love taking care of our customers and working to make your pest and critter problems go away. We work in Houston Texas, Cypress, Bridgeland, Blackhorse, The Woodlands Texas, and Surrounding Areas.
The Chase
We love the chase.  Just give us an idea what sort of varmint you have running loose in your home and you will see a big smile come on to our faces.  Let the chase begin.  We will take every care to be gentle with your home, but we will find the little menace that is banging around in your home uninvited.
Spring Texas | Houston Texas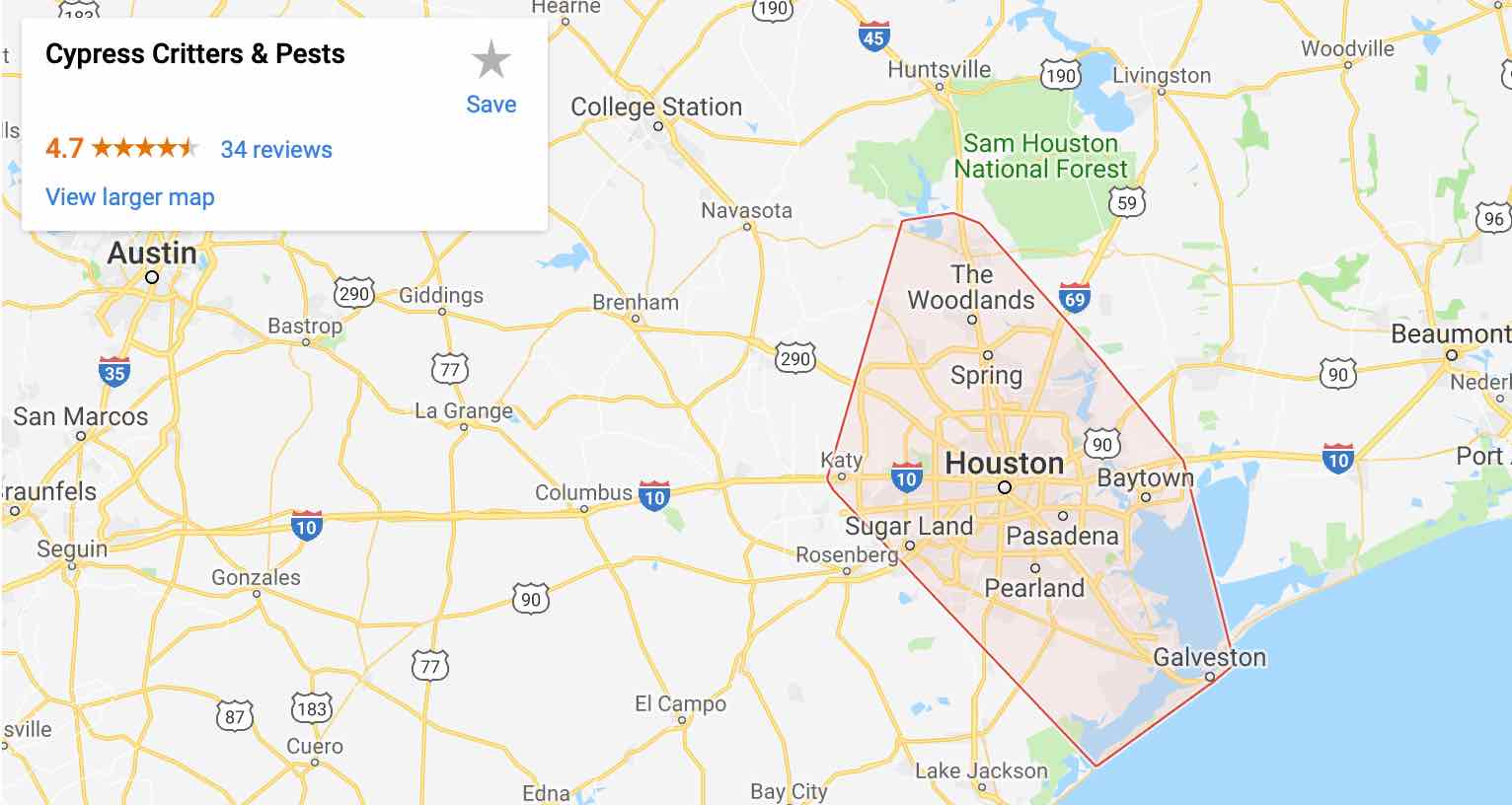 Pest | Critter | Termite Control Service | Spring | Houston Texas
Pest Control Services
In pest control and prevention one size does not fit all. Every home, every property and every neighborhood can be different.  We inspect all three and make customized recommendations based on your needs. Outside perimeter treatments are the key to the elimination of inside pests. 
Get rid of my rodents
get rid of my Termites