In
pest control
and prevention one size does not fit all. Every home, every property and every neighborhood can be different.  We inspect all three and make customized recommendations based on your needs. Outside perimeter treatments are the key to the elimination of inside pests. We treat from property line to property line to deliver the best results. Inside treatments can be frequent or infrequent depending on the circumstance and severity of the infestation.
Termites
are usually very harmful despite the fact that they are just small insects. The main reason why they are so harmful is that they come in hundreds and they can cause major damages within a short time. They primarily attack and feed on wood but they can also damage books, papers, insulations, filtration systems and even swimming pool liners. They usually invade buildings in places that even the home owners can stay for a long time without noticing that they are there.
Having bed bugs is traumatic. They cause sleepless nights, stress and bring disorder to an ordinary home. Cypress Critters & Pests treat bed bug infestations using the safest chemicals available. A proper treatment plan requires a thorough home inspection so that a determination can be made on the type and scope of the treatment. The treatment products that are used by Cypress Critters & Pests are safe when applied properly and will not harm children or pets.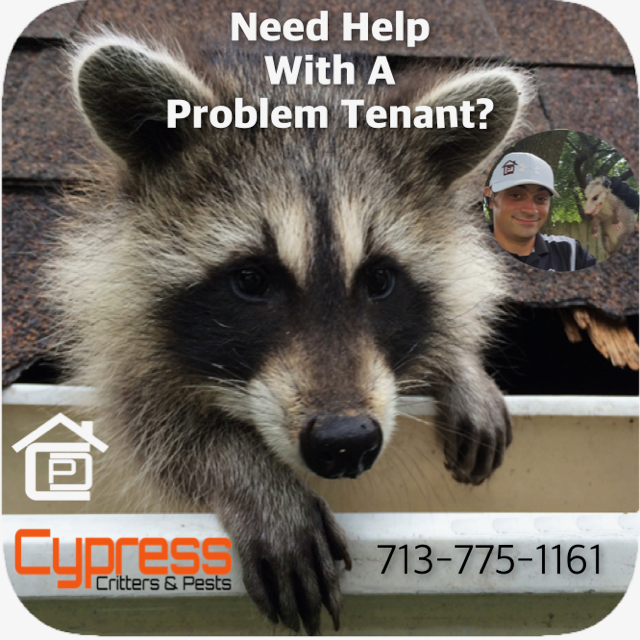 How much fun is this!
We love what we do.  We are all people who get up every day and just cannot wait to go out on our next call.  Everyone who works with us at Cypress Critters and Pests has expressed and shown us that they actually love taking care of our customers and working to make your pest and critter problems go away.
The Chase
We love the chase.  Just give us an idea what sort of varmint you have running loose in your home and you will see a big smile come on to our faces.  Let the chance begin.  We will take every care to be gentle with your home, but we will find the little menace that is banging around in your home uninvited.
Exclusion
Animal Exclusion, or Critter Exclusion is the process of blocking access for critters into your home.   During the chase to find your varmints, it is second nature to find all the areas that they are accessing your home.  We will show you the little and not so little places where they have their way with your attic and crawl spaces.  Our experience leads us right to the little guys most times.  We will find them, then professionally block, and cut off any further access to your property.
Frequently Asked Questions
There are a multitude of questions that people ask when needing pest control, critter control, animal exclusion and termite extermination.  We are here to answer any and all questions or concerns you may have. Some of the questions we here a lot are listed at the right.   If you have any further questions please do not hesitate to call us and we will be happy to assist you in any way we can.
What DO YOU DO WITH THE ANIMALS?
In most circumstances we do our best to treat the animals we track and cage as humanely as possible.  We try to relocate them by using all legal channels we have available to us.  We love animals and only want to get them out of your home.
What is your turn around time?
We strive to get your services done as soon as possible.  We have our trucks equiped with everything we have needed in past pest control and critter control situations we have come across in our years of experience doing this work.  We can typically get to work immediately upon approval from you to do the work.
WHAT CITIES ARE PART OF YOUR SERVICE AREA?
We work in the North and Northwest areas in and around Houston Texas including:
CONROE
THE WOODLANDS
CYPRESS​
HOCKLEY
JERSEY VILLAGE
COPPEFRFIELD
CHAMPIONS
KLEIN
KATY
KINGSWOOD
SPRING​ Give Us A Call
Drop us a line anytime, and one of our customer service reps will respond to you as soon as possible